Corporate Gifting Trends- What's hot in the world of Corporate Gifting
Corporate gifting has evolved into a dynamic strategy, and staying ahead in this game means embracing the latest trends. In the realm of promotional products, it's all about innovation and resonance.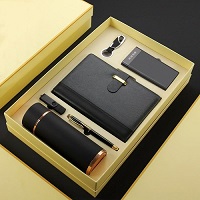 Personalized Perfection : Customization is king. Tailoring gifts to individuals' preferences and needs shows thoughtfulness. Personalized items, from engraved accessories to bespoke gift sets, create lasting connections.
Explore more customizable products from our office and writing category of Corporate Gifts
Tech Marvels: Embrace the digital age with tech-savvy gifts. Wireless chargers, smart wearables, and virtual reality gear resonate with modern lifestyles, while keeping your brand in the limelight.
Check out more products from chops' technology category of Corporate Gifts
Sustainability Speaks : Eco-consciousness is in vogue. Eco-friendly products, made from recycled or organic materials, align with the growing demand for sustainable practices.
Search more sustainable products at single click
Wellness Wave : Health and wellness are paramount. Promote well-being with items like fitness trackers, yoga kits, or stress-relief tools, showcasing a caring attitude toward recipients' holistic health.
Want to know more interesting products from our Health category? Click here 
Travel Companions : As travel resumes, consider travel-friendly products like compact backpacks or travel organizers, catering to the wanderlust in your recipients.
Explore the options in bags and travel for Corporate  Giftings

Stay ahead in the corporate gifting game by embracing these trends that not only showcase your brand's thoughtfulness but also foster lasting connections with your valued stakeholders. At Chops, we're here to make your gifting journey seamless and impactful. Discover the art of meaningful gifting with us today!