Travel-Friendly Charging Solutions: Power Banks and Wireless Chargers
Are you getting bored because your devices are running out of battery during your travels? Whether you are on adventure and exploring the outdoors or navigating within a crowded city, having a reliable charging solution is a necessity.
When your device is out of power, it's not just about missing out on capturing memories or being unable to use GPS for navigation. It also means that you aren't in touch with your loved ones, away from important calls, missing notifications, and unable to access vital information during your journey.
This blog explores some of the best travel-friendly charging solutions, including power banks and wireless chargers. There are also some features like Magsafe power banks, light-up power banks, and bamboo power banks to keep your devices powered up on the go. Moreover, these solutions are the perfect corporate gifts, helping your clients and office staff to stay connected wherever they go.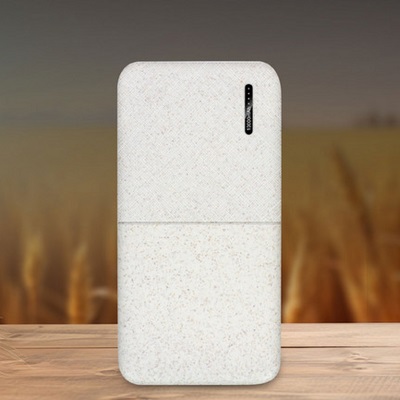 Importance of Travel-Friendly Charging Solutions:
Traveling is when you are away from conventional power sources for long periods, which may become a difficult situation for your colleagues or clients. Having the right and active charging solutions ensures that you stay connected to get on emergency calls. Also, capture the precious moments of your journey and navigate your way without any interruptions.
Furthermore, these travel-friendly charging solutions are not just beneficial for personal use; they can also be utilized as the perfect corporate gifts for your colleagues and clients. By offering these practical yet sophisticated charging solutions to your clients and office staff, you're not just providing a means for them to stay connected during their travels but also demonstrating your commitment to their convenience and technological well-being. It's a gesture that speaks volumes about your dedication to facilitating seamless communication and connectivity, regardless of their location or itinerary.
Power Banks: Your Portable Charging Companion & Best Corporate Gifting Product:
Power banks are compact, portable devices that store electrical energy and can charge your devices. It works as the ultimate savior when you're away from traditional power sources. These power banks have a sleek design and high capacity, keeping the essential needs of the user in mind.
Here's a rundown of the top-notch options that cater to different needs and preferences. It also keeps your devices charged and active throughout the day.
Consider the following factors while choosing the Power Bank:
Capacity: Select the power bank with a higher mAh (milliampere-hour) and a range of 5,000 mAh to 10,000+ mAh, which makes it a convenient option to charge your devices multiple times.
Portability: The lightweight and slim-designed power banks that can easily fit in your pocket or bag without weighing you down, always opt for that. Such tech products also leave a lasting impression on your clients and colleagues while you give them such power banks as a corporate gift.
Fast Charging: Ensure that the power bank supports fast charging capabilities to speed up your devices, like iPhones, Android phones, smart watches, etc., too quickly, especially in an emergency.
Wireless Chargers: Those days of fumbling with cables are gone, as the new wireless technology has an impeccable impact on chargers too. Wireless chargers are an excellent option for hassle-free charging without the need for cables, which makes them an ideal corporate gift for your clients and office staff.
Make a note of the following points while selecting a Wireless Charger:
      4.1. Compatibility: Your device needs to be compatible with wireless charging technology. Some smart phones and other smart devices may require specific features to enable wireless charging.
     4.2. Fast Charging Speed: Select the wireless chargers that offer fast charging capabilities to reduce the time spent charging your devices.
How Power Banks and Wireless Chargers are Beneficial as Corporate Gifts?
Power banks and wireless chargers are not only convenient charging solutions but are also considered the epitome of practicality and sophistication when it comes to corporate gifting.
By offering such tech-savvy products as corporate gifts, companies demonstrate a keen understanding of the modern professional's need for uninterrupted connectivity.
These thoughtful corporate gifts ensure a commitment so that clients and employees can stay connected and productive, whether in the office or on the go (outdoors).
Moreover, they reflect an appreciation for the importance of convenient technology and efficiency, which highlights the company's dedication and contribution to enhancing the overall experience and well-being of their valued stakeholders.
As a result, power banks and wireless chargers emerge as a smart and meaningful choice for corporate gifting leaving a lasting impression that speaks volumes about the company's commitment to practical innovation and client or employee satisfaction.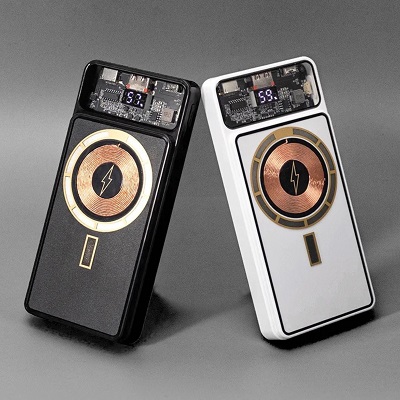 Power Up Your Corporate Gifting Game: Chops' Premium Collection of Power Banks and Chargers
The Magsafe Power Banks are the perfect combination of convenience and innovation in the field of wireless technology. Chops' offers the valuable MagSafe Power Banks that represent the cutting edge of charging technology, ensuring seamless and efficient charging solutions for a range of compatible devices.
These tech-savvy products are offered as a corporate gift that signifies a commitment to embracing the latest technological advancements. As these Magsafe Power Banks offer the convenience of magnetic attachment for effortless charging, they exemplify a thoughtful and practical choice as a corporate gift for clients and employees who value both functionality and style. The sleekly designed magsafe power bank from Chops with efficient charging capabilities is the ideal corporate gift to leave a lasting impression.
Wireless Bamboo Power Banks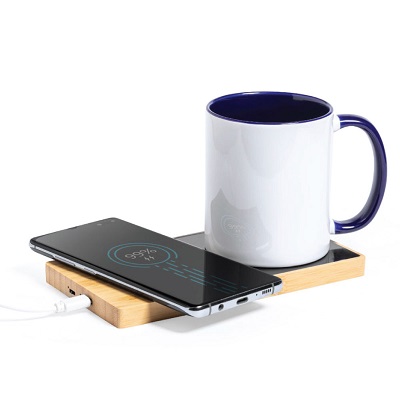 The Wireless Bamboo Power Banks are the finest eco-friendly corporate gift and reliable charging solution for your clients and office staff.
Chops' Wireless Bamboo Power Banks are a combination of sustainability and practicality, making them an ideal corporate gift for eco-conscious recipients. These power banks are crafted from 100% natural bamboo materials that not only serve as a reliable source of instant charging but also reflect a company's commitment to environmental responsibility. By giving these eco-friendly corporate gifts as a charging solution, professionals can demonstrate their dedication and contribution to sustainability and showcase a socially responsible image, encouraging a positive association with their brand among environmentally conscious clients and employees.
The Light-Up Power Banks are the best tech products and essential for corporate gifting purposes because they illuminate connectivity wherever required.
Chops' Light-Up Power Banks are not just practical charging solutions but also functional accessories that add a touch of innovation to the corporate gifting experience. These power banks have integrated LED lights that illuminate during the charging process, which makes them an attractive and eye-catching look for your clients and employees. Companies can showcase their dedication to providing user-friendly and innovative solutions while also enhancing their brand image as a customer-centric and forward-thinking organization that combines both style and functionality by offering these Light-Up Power Banks.
Fast Charging Power Banks
The Fast Charging Power Bank from Chops is a fusion of efficiency and reliability that makes it an elegant choice for your corporate gifts. These sleekly designed power banks charge the devices effectively and quickly whenever needed, ensuring that your clients and office staff stay connected without any interruptions during their travels. By offering these fast-charging solutions as corporate gifts, professionals can convey their commitment to providing efficient, practical, and time-saving solutions to their clients and employees. This is a kind of gesture that communicates a dedication to enhancing productivity and convenience, reinforcing the brand's reputation as a reliable and forward-thinking organization.
Choose a power bank that allows you to charge the devices wherever you go. Incorporate the essence of connectivity into your corporate gifting with our collection of stylish and travel-friendly power bank chargers, ensuring a perfect choice for your clients and employees.